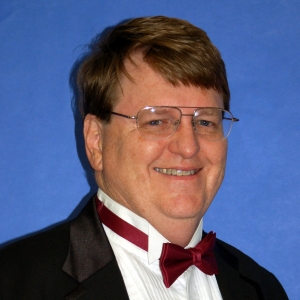 Robert "Stretch" Keeney, like many other members of the band, started playing music in elementary school. In his school years, he focused on clarinet, but fiddled around with sax in the high school stage band. Stretch majored in music at West Virginia University until he finally came to three very important realizations – first, that the lucrative career opportunities for clarinetists were somewhat limited; second, that majoring in music was a lot harder than he bargained for, and third, the faculty really expected him to do all that work they assigned.
Business turned out to be a much easier career path, or perhaps something for which he had more aptitude, so Stretch completed his degree in Accounting and Finance at Davis and Elkins College and became a CPA. Though pursuing his accounting career, Stretch continued to be involved in music throughout his adult life. He was primarily a singer for the first fifteen years after he left WVU. When he moved to Chapel Hill, NC,  he once again picked up the clarinet and joined the Village Band – Chapel Hill's community band. Following the frugal ways of an accountant, he bought a used sax for his daughter, Harmony (yes, really), on the recommendation of an acquaintance who said it was a "real good" sax. Harmony decided the sax wasn't for her and concentrated on singing (check out harmonysings.com), so Stretch was left with an unused sax.  Not wanting a perfectly good sax to go to waste, he found an opportunity to play it  some with the village band. Imagine his surprise when he found out that his "real good" sax was indeed a top line professional model. He contends that the quality of the sax was probably more responsible for his invitation to join a local Chapel Hill swing band than his playing, but nevertheless, he jumped at the opportunity and worked hard to keep up.
By the time he arrived in Salisbury in 2005 to take a position as CFO of Rowan-Cabarrus Community College, Stretch was quite comfortable on all of the common varieties of saxes as well as on the various clarinets, and had become familiar with much of the repertoire of the big bands. His talents are in some demand locally, so in addition to playing with the Salisbury Swing Band, he has played with the Piedmont Prime Time Community Band, the Catawba College Community Band, the Catawba College Wind Ensemble, and the Rowan Big Band All Stars. He has also performed as a soloist and in the theater, and even had an opportunity to sing with the Salisbury Symphony representing the community college in the "Fugue for Tinhorns" from "Guys and Dolls" ("I've got the horse right here…") along with the presidents of Catawba and Livingstone colleges. He'll never live that one down.
Stretch joined our organization in 2007, just as the band was establishing an ongoing identity and a stable community of players. Knowing he's happiest when he's busy, we often use him as assistant director when our fearless leader, Steve Etters is unavailable. He plays one of the tenor sax books with the band, so you'll have lots of chances to hear him solo.